Whether you will be discovering scuba diving for the very first time, looking to become a certified diver or extending your education, Dive Dominica's professional dive instructors have the course to offer.
Dominica's marine environment, with little to no current, great visibility and shallow reef drop-offs makes the island an ideal place for any level of student to learn or improve their diving skills.
Become a Diver
Discover Scuba Diving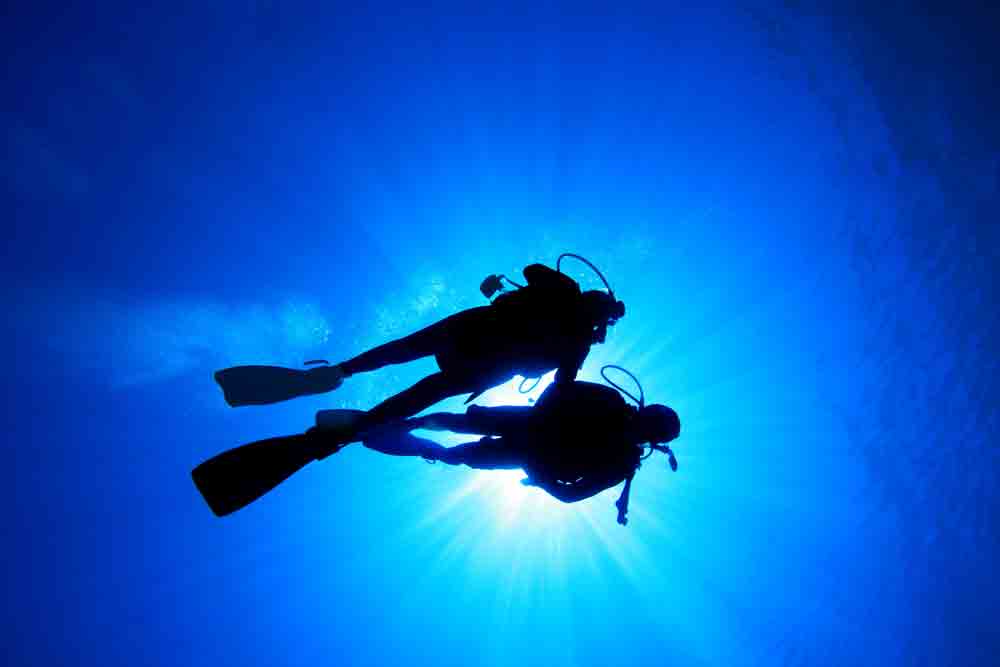 Have you always wondered what it's like to breathe underwater? If you want to try scuba diving, but aren't quite ready to take the plunge into a certification course, Discover Scuba Diving is for you. PADI dive shops offer this program either in a pool, off a beach or from a dive boat.  While not a scuba certification course, Discover Scuba Diving is a quick and easy introduction to what it takes to explore the underwater world.
What you will learn: During the course you will learn the basic safety guidelines and skills needed to dive under the direct supervision of your PADI Instructor. You will go over the scuba equipment you use to dive and learn how easy it is to move around underwater with your gear. Then you will make your first open water dive, where you'll practice a few more skills in shallow water and slowly making your way, if comfortable, to a maximum depth of 40 feet.
Requirements: To sign up for a PADI Discover Scuba Diving experience, you must be at least 10 years old. No prior experience with scuba diving is necessary, but as with all diving courses, you need to be in reasonable physical health. There is a two person minimum required for all Discover Scuba Diving course. 
Option #1: Discover Scuba Diving with a 2-tank boat dive. 
After learning the basic safety guidelines and skills, you and your instructor will join the Certified divers on the morning dive boat. After making your first dive with your instructor you will have a one hour surface interval to relax and discuss your experience before jumping in again for a second dive.
Option #2: If boats aren't exactly your thing, we also offer the option for a Discover Scuba Diving with 1-tank shore dive. These dives are conducted directly off the dive dock at Dive Dominica.
---
Open Water Certification Options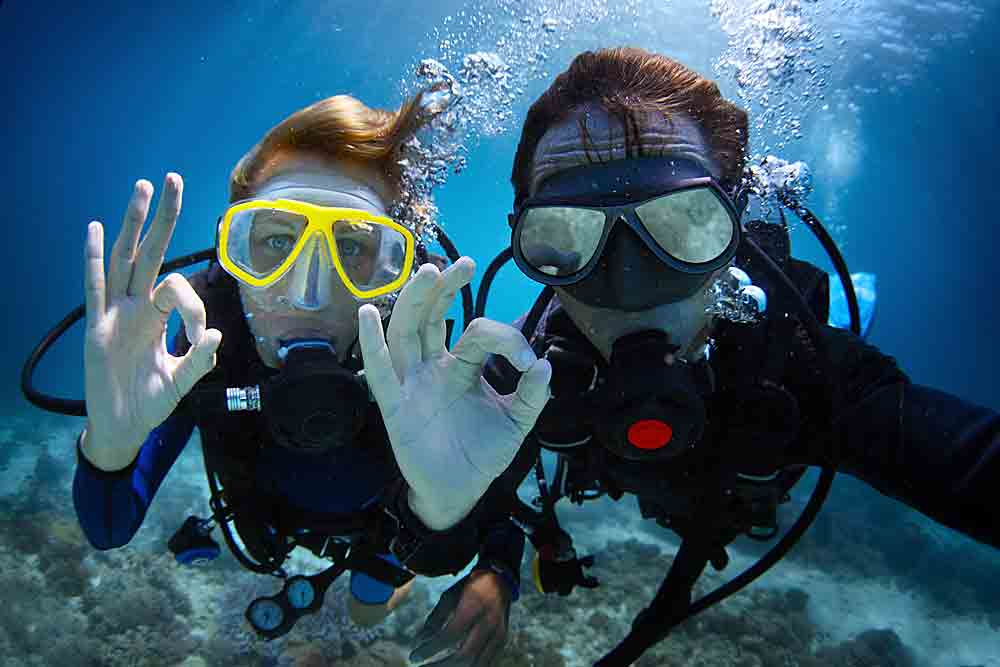 The Open Water Diver course/Junior Open Water Diver course is the most widely recognized and respected rating in the world. It provides you with an understanding of the fundamentals of scuba diving, including dive equipment and underwater techniques.
Taking the Open Water Diver Course is the first step in becoming a certified, recreational diver and Dive Dominica offers you 3 different options to get you there.  Which option is right for you generally depends on how you prefer to learn.  No matter which option you select, all PADI Open Water Diver courses consist of four main phases:
Academics:  knowledge development to understand the basic principles of scuba diving.
Equipment: you learn to use basic scuba gear, including a mask, snorkel, fins, regulator, buoyancy control device and a tank.
Confined (Shallow) Water Training: When you're fitted with your scuba equipment you can begin your confined water training. Your instructor will put into practice the techniques you learned in the academics program. Your training dives will be logged and approved by your instructor before you move on to open water.
Open Water Dives: Get ready to experience everything you've learned with the freedom of open water. As soon as your four open water training dives are approved by your instructor you will be a certified diver.
Option #1: Open Water Diver Elearning Course:
(plus the PADI eLearning program cost  - purchase now!)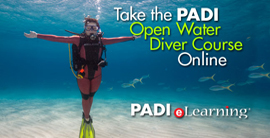 PADI Open Water Diver Online or Elearning allows you to study at your own pace through an interactive computer-based program.  If you are more of a tablet user, you can also start learning with PADI's Open Water Diver Touch that integrates the PADI Open Water Diver Manual with the PADI Open Water Diver Video into a powerful, tablet-based learning experience.
With both eLearning and the Touch, you'll have completed the following prior to arriving in Dominica:
Learned diving facts, principles and safety concepts in preparation for your confined and open water dives.
Watched video clips that show you the world of scuba diving.
Taken simple quizzes to make sure you understand the material as you progress.
Once on-island  you'll be ready for water work as soon as you arrive.  The confined shallow water sessions take from ½ to 1 day to complete. Your open water training dives will have you on the dive boats the next two mornings during which you'll complete skills and practice diving on our beautiful reefs with your instructor. Allow 3 days for this course.
Requirements: To enroll in a PADI Open Water Diver course or Junior Open Water Diver course, you must be 10 years old or older. You need adequate swimming skills and need to be in good physical health. No prior experience with scuba diving is required.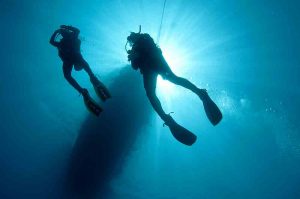 Option#2: Open Water Diver Referral
If you have a dive shop near to where you live, beginning your certification with them is a great way to start.  With this option, you get a chance to meet not only your local dive retailer, but other students who may become future dive buddies. Your local instructor will work with you to complete your academics and confined water, then furnish you with a Referral document attesting to the fact you have satisfactorily completed this work. Then when you arrive in Dominica, you need only do your 4 open water dives to complete your certification dives. Allow 2 days for this course.
Option #3: Full Open Water Certification Course
Some people prefer the continuity of starting and ending their course in one place with one instructor.  If this appeals to you, the option is there to take the entire course once on island. With this option, you will complete your academics during lectures with our instructor and through independent reading. You will then move on to complete your confined water, followed by your 4 open water dives.  Allow 3 - 4 days for this course.
---
Refresh Your Skills
Refresh Scuba Review
If you are a certified diver who has not been in the water for an extended period of time a scuba review will provide you with the confidence you need to get safely back to diving. Your instructor will do a verbal review of important concepts followed by a confined water skill refresher and short shore dive directly off the Dive Dominica dock.  Allow 1/2 day for this course.
Advance Your Certifications
Advanced Open Water Diver & Junior Advanced Open Water Diver For PADI ELearning Students:
You don't have to be "advanced" to take this course – it is the course itself that advances your diving, so you can start right after earning your PADI Open Water Diver certification. The course helps build confidence and expand your scuba skills through different Adventure Dives. You try out different specialties while gaining experience under the supervision of your PADI Instructor. You log dives and develop capabilities as you find new ways to have fun scuba diving. To get the most out of the class we recommend  PADI E-Learning. This way you've finished the self study and can complete the required instructor briefing with limited to no classroom time, getting instead on-boat and in-water briefings.

The course includes five dives, two of which must be deep dive and navigation dives, with the other three Adventure Dive options including night, wreck, boat diver among others. Allow 2 1/2 days for this course.
Requirements: To enroll in the course you must be a PADI Open Water Diver or Junior Open Water Diver who is at least 12 years old. Young divers may only participate in certain Adventures Dives – check with your PADI Instructor
Option #1: Five boat dives including a night dive
Option #2: Four boat dives plus 1 shore dive